This just in ...
Latest from Trace
The goal
At TRACE/Innomission 4 our goal is to contribute to Denmark reaching the national climate goals within circular economy with a focus on plastics and textiles by 2050.  We want to create anational "laboratory" that sets new, groundbreaking frameworks for systemic development and innovation and provides tools and processes to convert traditional linear production and consumption to circular solutions.
The transition must be carried out in an ambitious partnership between companies and the most talented national and international researchers in close collaboration with authorities and the rest of society.
Innovation and technology are part of Danish companies' DNA, and we have experience that knowledge sharing, collaboration and development naturally belong together and can create great results. This means that together we can strengthen climate and environmental efforts and at the same time further accelerate the creation of jobs and the export of technologies and business models.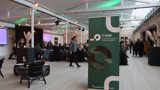 Trace Conference Video
The Trace Innomission 4 - Pool 2 conference brought companies and scientists together in inspiring meetings, where challenges were discussed and laid the foundation for new projects, that will help companies and the society to work with a circular transition.
Watch the video, where chairman of Trace, Dorethe Nielsen, assistant professor Thomas Jensen, CBS and R&D Director Lancelot Wolley, Fibertex Nonwovens talk about their benefits of the day.